There's that evening every once in a while where I just want to chuck everything down and just blog. Okay, is that a sign if a blogger? Anyway, I get myself to a point where I want to write and explain everything, usually crying my way through it and listening to songs that definitely improves my mood; currently that's Shayne Ward 'The Way You Were' and yes I know he's a bit outdated and a person who you'll think 'who?' (he's Aiden in Corrie if it helps!) but it's very catchy and I can't help turn into a pop star when listening to it belting out the lyrics and like when you're in that mood all the lyrics somehow fit into your life perfectly - if you've not listened to it before, listen and to El, I know you'll read this, but I'll pretend I hate him for the sake of our mutual agreement to do so but actually I kinda love him and listen to him in secret - oops!
I've got to that stage where I'm feeling I'm not doing too great at all areas of my life at the moment, and this is something that doesn't resonate well with my inner self. I'm naturally one to put my all into doing the best I can and achieve it with all my determination behind me but, just recently I've been feeling so much pressure to keep everything going and balancing. I've been juggling my assignments, family, housework and this blog it feels like I've been dipping my toes in all sections but not really completely immersing myself, enjoying the journey as much as I should and this has been hard because they all deserve all my attention, but I've been flicking between what's needed me the most at the time. Now, I will say that I've had so much support in all areas and it's more of a in my head 'me' issue and I think sometimes that's the hardest thing because from the outside you can look very different to how you're really thinking..
I'm not one to ever feel particularly stressed with things in life, it's usually Chris and I'm the one to say 'It'll be fine, we'll be fine - it always is in the end!' and I think I have needed to listen to my own words as of late because the pressure of doing the best I can with everything has been bothering me; my sleep has been horrendous as of the last couple of weeks as things have been building up.
My assignments have been very time consuming, especially this one that is due on Thursday and wanting to do the best, puts unfold pressure on myself to make it sound how I envision it and this week has shown me that I don't work very well under pressure, it stresses me and takes over my mind - I had to take a couple of days off to clear my mind and somehow the questions all made sense and I've done more in the last couple of days than all month, typically! I still have plenty more to do and it does affect how I fit everything else in, as my house is more upside down and unorganised than usual - the fact there's dust on my bedroom window sills really irritates me, yet somehow haven't found the time to deal with it (I don't know either). My poor Nan has been in hospital as of late and the worry of how she is, has been bubbling - thankfully a bit better than she was a couple of weeks ago but we shall see how it goes. Money has been bothering me too as Chris's work has been told to cut down staff's hours and that has hit us really hard, especially on the run up to Christmas. You may have noticed that I've been quiet on this blog, not really uploading any decent content. This has been weighing on my mind a lot recently and I hate it because it's one of my big loves in my life - it's a place where I can just blurt out and it feels good, I can waffle and it doesn't really matter. I've come to accept that it may not be the best written or the most interesting, people may not relate or connect and that's fine because there are a thousand out there that are much more gripping (I read them too!!). I've come to realise that you can't compare yourself, because your story is different, we think differently and we all have a different ending.
My boys are the only things that have kept me grounded with life recently, that one kiss, funny moment or little snuggle has helped me stop and breathe for that second releasing that ache in my shoulders. I very often wonder what I'd do without them because they're just little beauties that bring that flicker of a smile in the hardest times. They've made me laugh on many occasions this week, through their dramatic moments - shouting and bursting into tears over what to us would be the most insignificant things. Oh how glad I am that the only thing that ruins their day is the fact a pencil has been taken away from them or that their finger feels a little sore (if you follow me on Instagram, you'll know about this day!). It's quite beautiful to see children be children - I'll take all the stress if it means not shouldering them with any misery in the bigger world.
I have to continuously remind myself that stresses are there to prepare us and to keep us in check to be able to enjoy the simple times; to soak them up and feel utter bliss. I'm looking forward to that time once again, but I guess in the meantime I'll keep going and protecting what's precious.
What helps keep you grounded when you're stressed?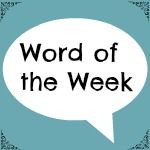 #WOTW: Stress